Kids Konnect Preschool is the latest addition to San Mateo's child care offering. The new preschool, located near the Crystal Springs Shopping Village, is owned by Makinya Ward, a self-confessed early education enthusiast with a mission to bring quality and affordable daycare to parents across the Bay Area. With bright décor, inspiring and explorative toys, and new facilities, one doesn't even recognize it as the now defunct Crystal Springs ECE Center. But the building isn't the only thing that's experienced an extreme makeover.
"Kids Konnect is proud to boast an emergent curriculum which goes far beyond the calls of license" says Megan Sheedy, Site Supervisor. "We have perfected our play-based curriculum since 2004 at our other preschools in Pacifica and Oakland with children and their parents". "We also ensure that our teachers are not just well-qualified but have a great personality to match" adds Makinya Ward, CEO.
Indeed, describing the "regular preschool" doesn't come close to describing the progress parents see at Kids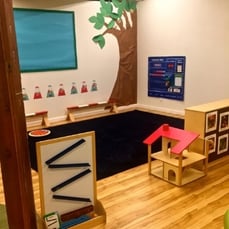 Konnect. San Mateo parents also benefit from nutritious lunches included, potty training, outside speakers, long opening hours, no block closures, and a strong sense of community.
Kids Konnect in San Mateo promises to do its bit for the growing child care shortage on the Peninsula by adding 45 places and has plans to expand further. The preschool welcomes tuition assistance from organizations like 4C and Child Care Links, a program for employers, and accepts children aged 2-6.
Makinya Ward adds "I would like to thank the Department of Social Services for granting our license so fast and easy cooperation. This made the usual obstacles of setting up a preschool that little bit easier".
Whether you're looking for full-time child care or just a few days per week, Kids Konnect's latest center in San Mateo offers something for everyone.
---
Please send press inquiries to: staff(at)kids-konnect[dot]com
Address
Kids Konnect Preschool
2145 Bunker Hill Drive
San Mateo
94402
About
Kids Konnect Daycare and Preschool provides an outstanding safe, fun, and developmentally appropriate environment for toddler and preschool age children in three Bay Area locations - Oakland, Pacifica, and San Mateo.