What is a play-based curriculum? [video and blog]
With an abundance of preschool teaching philosophies out there, you'll probably be left confused on what's the best choice for your child. In reality it comes down to a number of things in addition to the curriculum including cost, convenience, community, and location.
It would be wrong for me to say that play-based sits at the top of preschool curriculum leader board because every child is different. However, one thing is for sure, kids are kids! They're meant to have fun in the early years but that doesn't mean they can't pick up skills and knowledge at the same time.
We've spoken to Kids Konnect teachers across the Bay Area and have come up with these three awesome benefits as well as quick video interview:
Watch: What is a play-based curriculum?
3 benefits of play-based curriculum
1. Play-Based Curriculum Expands Intelligence
Research shows that when children engage all of their senses in learning tasks, they increase their ability to learn. Play-based curriculum engages all senses in learning. For example, children may hear stories and sing songs about farm animals, then collaborate with others playing imaginary games. Afterward, teachers may have them practice storytelling by talking about what they've learned, or practice math concepts like making patterns using plastic farm animals. By offering a play-based curriculum filled with STEM (STEAM) focused activities to encourage your little one to develop and grow in a friendly and interesting environment.
2. Children in Play-Based Environments Learn Problem Solving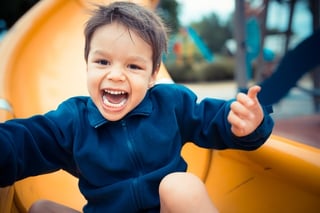 Learning to ask questions, guess at answers and test those answers through trial and error is at the heart of both scientific labs and a preschooler's play. Children in play-based schooling are constantly making choices and guesses. They then have the chance to test those guesses and discover how to solve problems. They might try to stack up some blocks with a friend to see how tall their tower can go before tumbling, or mix colors of paint to discover how to make green for painting a tree.
Here are five great ways children can learn STEAM concepts at preschool.
3. Play Allows Children to Learn Emotional Literacy
One of the best ways to predict school success is to measure impulse control. Learning to take turns, work with other people, and wait is fostered extraordinarily well during play. As children are building with blocks, playing in the sand, or creating a painting together, they will learn how to talk about what they are doing, share their materials, and read the emotions of others. Children need to know how to get along with other adults and children. They need to be able to negotiate, compromise and resolve conflicts.
Play-based curriculum allows children to learn the skills they need in a structured environment with the help and supervision of an experienced teacher who knows how to take interests and experiences and turn them into learning moments.
Read more: How a play-based curriculum helps prepare your preschooler for structured learning