Teaching Ramadan to Preschoolers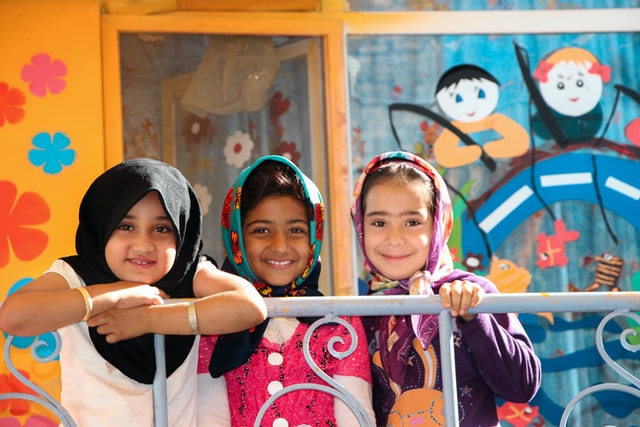 Millions of Muslims around the world are celebrating the end of Ramadan today with the Eid al-Fitr.
Eid al-Fitr marks the end of the 30-day festival that includes fasting – not eating or drinking anything during daylight hours – and prayer.
At Kids Konnect, we believe it's important that children learn about other cultures, holidays and experiences. From the Lunar New Year to Hunnakah to Diwali, learning about another culture's holidays is a great way to discuss what makes us the same but different, and promote love and kindness to combat hate and intolerance.
Some young children could struggle to understand Ramadan and its cultural significance. This is why celebrating Ramadan with children is important and something our teachers will encourage our families to discuss at home as well as at school.
What is Ramadan?
Ramadan is the ninth month of the Islamic calendar.
It is considered one of the holiest months and Muslims believe that some of the first verses of the Qu'ran were revealed to the prophet Muhammad during the month of Ramadan.
It is also one of the Five Pillars of Islam, five principles Muslims believe are direct orders from God. Sawm (fasting) is one of the pillars and an act of worship which enables Muslim's to feel closer to God.
Young children are exempt from fasting. Only children who have reached puberty (or the age of 14) take part. However, some parents also encourage their children to participate.
What is Eid?
Ramadan ends with a big celebration – the Eid al-Fitr.
This is usually marked with Eid prayers at a mosque and a big feast between friends and family. This year, Eid falls on May 12th (or May 13th in some areas).
Making Ramadan fun for children
Fasting during daylight for 30 days might not seem like an exciting children's activity! But, you can make Ramadan fun for preschoolers and infants with some entertaining activities and books.
Here's how you can involve your children in Ramadan and help them join in or teach them about the festivities.
Ramadan Activities for Preschoolers
Make a Ramadan Calendar
Like a Christmas advent calendar, a Ramadan calendar counts down to Eid. Everyday during the festival, children open up a window and get a prize!
You can buy a Ramadan calendar and be boring, but we recommend you get crafty and make a calendar! This is an engaging activity that will help celebrate Ramadan with young children. It also educates your children, letting them know that this month is more important than others while opening conversations about the history and purpose of Ramadan.
Muslim motherhood blogger Multicultural Motherhood has a great tutorial you can follow to create your Ramadan calendar out of craft paper. You can fill your calendar with sweets, good deed cards or activity cards.
Decorate the house
Young children love to decorate the house. You can put up Ramadan bunting, balloons, lanterns or lights – whatever you use, make sure your children can customize it and make it their own.
Read some Ramadan books
We know Bay Area parents are avid readers and read to their children at least once a day. So why not put some Ramadan books onto your child's reading list – right next to Cat In The Hat!
There's a great selection of Ramadan children's books available including Ramadan Moon by Na'ima B. Robert, Lailah's Lunchbox: a Ramadan Story by Reem Faruqi, and there is even a Curious George Ramadan installment, It's Ramadan, Curious George by Hena Khan and H.A. Rey.
All these books celebrate Ramadan and encourage children to learn more about the festival. This Yelp list will help you find and support local Bay Area Islamic bookshops. The books are also widely available online.
Sing, listen and play some nasheeds
Nasheeds are Islamic songs of praise. They are usually sung a cappella, however sometimes instruments are used.
Children love singing songs. We definitely know this from the amount of random singing that takes place in our classrooms! So one fun activity can include singing along with some nasheeds or listening to them with your children.
Nasheeds often change rhythm and include repetitive lyrics. While most are sung in Arabic, there are some English versions and translations you can listen to at home if you or your children don't speak Arabic. A great example is 'Ramadan Moon' by Yusef Islam.
See our inclusive teaching for yourself
Kids Konnect preschools and infant centers pride ourselves on our ability to deliver inclusive teaching regardless of race or disability.
We make sure our play-based curriculum teaches our families about cultures and experiences other than their own. We want to stop hate, and strive to promote empathy, love and tolerance in our students. We welcome anyone with open arms.
If you live in the Bay Area and you are interested in joining one of our centers in Oakland, Pacifica, San Mateo, San Leandro or Redwood City, please get in touch with us!
We're now accepting immediate starters and Fall enrollments in our schools so please feel free to book a tour and visit us!