Your child is a product of evolution; and for most of human existence, clocks did not exist. Do not expect your child to respond to the press of time the same way you do. And yet, we all have schedules to keep, so how can you use positive parenting and still get out the door on time? Try these tips.
It's a Board Game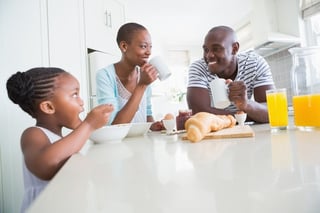 The experts at WebMD recommend breaking the morning routine into discrete steps. Take positive parenting one step further by turning it into a board game. Take some time to plan out the many necessary steps and their correct order:
Wake up
Bathroom
Fresh clothes
Socks and shoes
Brush hair
Breakfast...
...and so on. Then turn the steps into picture boxes on a rectangular game board. Get a magnetic whiteboard with magnets for game pieces and just glue the printed game board onto it. Your child moves her game piece with every completed step. You can also purchase ready-made time charts, such as On-Time On-Task for Kids.
It's Play
Make morning madness into prompt playtime with some positive parenting moves. Change up your routine, says Parenting magazine:
Follow the Leader—Families with several kids can let one child lead the way, and your other children follow suit. Clothes, breakfast, shoes—whatever order the leader picks, everybody follows. Get the crew out the door on time and the leader that day picks the radio station, car game or after school treat.
Got the Music in Me—Play peppy tunes. Use the same playlist and make sure it is just long enough for your needs. That way, when Stitches from Kidz Bop 31 plays, that's when shoes must be on.
It's A Play
Transform the morning into the Big Show, and practice with rehearsals the night before. You can pick the theme—you are circus ringmaster, emcee, or just the stage manager—but the positive parenting goal is the same, say the experts at Babycenter. Treat the morning routine like a performance that requires rehearsal:
Props loaded and in place (backpacks packed the night before)
Costumes ready (clothes)
Animal performers fed (pets)
Places, people! Turning the morning into a dramatic performance may click with your child. Just remember to have an Emmy or Tony award ready!
How have you turned the morning departure into a great game? Please tell Kids Konnect in the comments below. We always like to hear from you!