Warm weather lets you say "yes" to messy outside activities. Sensory play is not just fun; educators know that children learn important information when they are engaged in play involving their senses.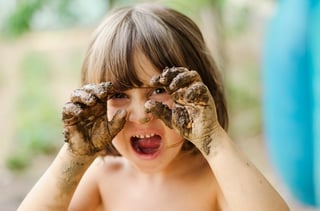 Foaming Car Wash
This car wash sensory experience is so much fun, you'll want to join in!
Set up the wash area inside a large plastic tub or swimming pool.
You will need some plastic cars to wash and washing tools like toothbrushes, squirt bottles, sponges, and towels.
Start by giving your child shaving cream to wash with.
Next, give them baking powder "dry soap."
After they've had fun mixing those together, give them squirt bottles filled with vinegar or lemon juice to squirt over their cars.
Remember the classic volcano experiment? Your child will love seeing the reaction. Finish up with some dishwashing soap and water to clean everything up.
Glow in the Dark Drawing
Buy some glow in the dark chalk, or have fun with your child by making your own:
Spray ice cube trays with cooking spray.
Combine 1/2 cup water with 3 TB food coloring and 4 TB Glow-in-the-Dark Paint.
Add 1 cup plaster of paris slowly and stir.
When it is the consistency of pancake batter, pour it into the trays.
Let set about 12 hours. Put in freezer for a few minutes if you have trouble popping them out of the trays.
Have glow in the dark drawing fun making pictures, playing tic-tac-toe, writing letters and making rainbows. Use a black light to make pictures stand out even more.
Sensory Painting
Mud Painting: Let your child have fun mixing up some mud and water in a container and using paintbrushes to make "mud paintings" on paper or on concrete that you can wash down.
Pudding Finger Paint: Give your child some pudding and water or milk to mix together in a small bowl. Let them finger paint on paper or cardboard boxes.
Water painting. Fill water bottles with spray paint and let your child spray paint all over the yard. They can also use different sized brushes or paint rollers.
At Kids Konnect, we teach using a play-based curriculum because we know research says playing is the best way for kids to learn. Let your kids enjoy these messy sensory activities, knowing they are learning by doing. Which of these activities would you like to try?