Kids are naturally bursting with curiosity. We hear it as we do our best to answer those well-known questions usually starting with "Why...?", "How...?" or "What...?" or we see it as we watch them explore and experiment with their surroundings whether they are in Oakland, San Mateo, Pacifica, or further afield!
While we might not always have the answers (I confess, I still don't think I'm exactly sure why the sky is blue), there's no denying that encouraging curiosity at a young age is one of the most important ways to help children become lifelong learners. Curiosity is the desire to learn, to understand, and to figure things out. Without it, it's hard to imagine how we'd ever make new discoveries or innovations. A world without curiosity wouldn't make for a very exciting world at all.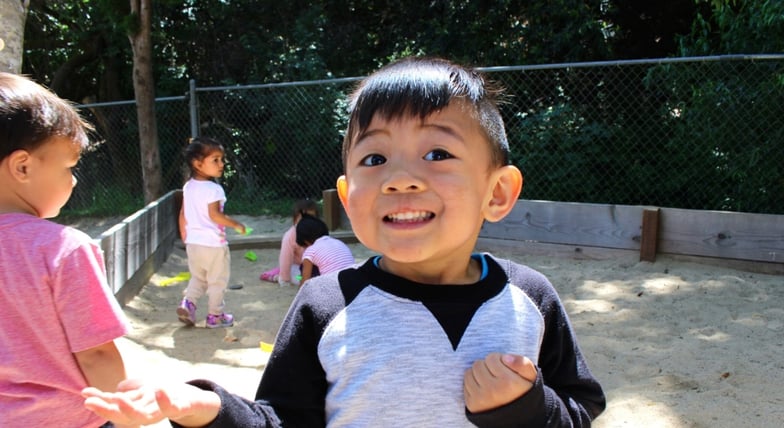 And when the world is so new to you, everything and anything can inspire curiosity. Even before children can talk we see them expressing their interest in objects, animals, nature, other people, and everything in between, by pointing and gesturing. When caregivers respond to these gestures, children can then use their senses to explore the things that intrigue them and through listening, touching, tasting, smelling and looking they start to form ideas, make connections and come up with even more questions. That's the joy of curiosity, it's not a limited resource that drops off after a certain amount of time or learning. Instead it can stay with us throughout our lives, and is something you can share in with your child.
If they do ask "why is the sky blue?" and you aren't sure, it's an opportunity for you to explore and discover together!
Children's curiosity can also help them to build empathy and understanding. It makes them think about what they have in common with one another and what makes them different. It inspires them to learn about other cultures and perspectives, setting them on the path to being respectful and open-minded.
A play-based curriculum provides the perfect setting for children to learn through their curiosity. By placing value on the importance of multi-sensory exploration, children are encouraged to experiment and discover. Through play children can express their interests and motivations, presenting opportunities for teachers and caregivers to engage them in a learning experience. Across the Kids Konnect curriculum, the role of curiosity is always valued and encouraged as an essential part of a child's development and their progress towards structured learning. Curious people get more out of the world, so lets join in with our little ones as they wonder "Why...?", "How...?" and "What...?" and find out where it takes us.
Watch this video that shows some of our Kids Konnect kids expressing their curiosity and learning through play:
Curious to know more? Find out just exactly what a play-based curriculum is in
our blog and video
.