Your 4-year-old refuses to wear the outfit you carefully laid out. What do you do? Here are some questions to help you decide how to be a better parent when confronted with the choice to discipline or let it go: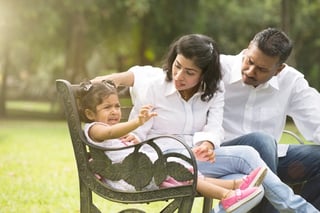 Is this a Safety Issue?
If your child wants to stand in the grocery cart, not stay in their car seat, or hit someone, a parent needs to say "no" and enforce the rule no matter what. Safety battles are non-negotiable.
Does this Conflict with Family Values?
Another important place to stand your ground is behavior which violates family principles like honesty, respect, or kindness to others. Disciplining your child in these areas can be an important way to help your child understand them, especially if you use the conflict to explain why this is important to you.
Can this Battle Fight Itself?
However, letting your child face the natural consequences of their actions can be the best way to handle many battles. If your child doesn't want to eat breakfast, you can be pretty sure they will be hungry at lunchtime and more interested in oatmeal tomorrow.
Is this a Once-in-a-while Problem?
If your child generally follows the rule but bucks only occasionally, you may just want to let it go. Maybe they are tired, or maybe they are following something they saw someplace else. Letting go probably will make the discipline issue go away; making a big deal about it might do the opposite.
What Brings the Most Peace?
Sometimes giving in makes peaceful time together as a family. If your child wants McDonalds rather than a sit-down dinner, you might want to agree and later opt for an adult-only meal when you have a babysitter.
How to be a better parent in disciplining is by asking yourself these questions about the battles you encounter to help you decide which ones to let go. Teachers at Kids Konnect seek to help parents by communicating regularly about classroom behavior. Do you have a story of a time you "let go" rather than fight a battle with your children?