Love to catch up on reading during the summer? Summer is a great time for kids to improve their reading readiness skills too. Here are three wonderful and funny books to add to your preschooler's summer reading list: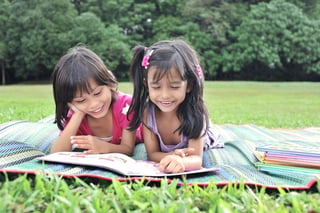 Minnie and Moo: The Case of the Missing Jelly Donut
Reading research has shown that repeated re-reading of a book builds important skills in preschoolers. Denys Cazet's Minnie and Moo books provide stories that both kids and parents can enjoy over and over. Perhaps the funniest is his Minnie and Moo series which starts with this book. In The Case of the Missing Jelly Donut, Minnie the cow is convinced that her pastry has been stolen by one of the chickens and convinces her friend Moo to help her discover the thief. Dressing up in hilarious poultry costumes, the two friends seek the truth in the henhouse, only to find the thief to be closer to home than they suspected. Hopefully, your child won't be able to stop with just one Minnie and Moo book and will beg to borrow the whole series from the library.
Blueberries for Sal
This lovely tale takes place in Maine and the expressive drawing by author and illustrator Robert McCloskey are wonderful for helping your child build reading skills by learning to anticipate and predict. Sal's mother wants to go blackberry picking and gives Sal her own pail. Meanwhile, a mother bear and her cub are eating berries to store up for the winter on the other side of the hill. When Sal and the mother bear and Sal's mother and the baby bear meet, everyone is surprised, but mothers and daughters are quickly reunited, giving a satisfying ending to this enjoyable classic. If your child likes this book, be sure to search for other McCloskey picture books.
Six Sandy Sheep
Kids Konnect teachers enjoy using rhyming and alliterative books to help preschoolers develop early reading skills and phonological awareness. You can help your child to develop an ability to play with language by using books like Judith Ross Enderle's Six Sandy Sheep. Children enjoy repeating the easy and fun alliteration of the story after you and they will also enjoy the humor of the escapades of the six sheep on a trip to the beach.
Enjoy reading with your child this summer. Do you have a favorite summer book? Share it with us!