Having some preschool activities that teach letter recognition means that when you are waiting in line at the grocery store, or in the doctor's waiting room, you can give your child something to do that is educational. Try these fun and interactive iPad apps for preschool letter recognition: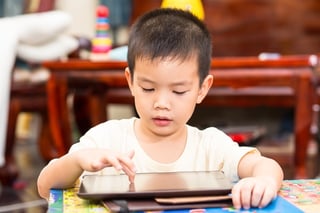 Interactive Alphabet ABC's
This terrific app will get your child to trace letters, sing songs, and discover letters and sounds at their own pace. In the singing mode, your child will sing with 26 alphabet robots. The tracing mode teaches strokes and supports left-handed stroking. Interactive Alphabet is good for kids aged 1-5 and follows the Kindergarten Common Core.
Endless Alphabet
What makes this app unique is that it teaches letter recognition and sounds in the context of learning the meaning of words. Your child will be given words that have a puzzle, talking letters, and a short animation which explains the meaning of the word. Appropriate for ages 2-5, Endless Alphabet has cute monsters that kids love.
Elmo Loves ABCs
If your child loves Sesame Street, they will enjoy this award-winning app. Along with songs, coloring pages, videos, and games about letters, children can watch Elmo's new alphabet song. Parents will enjoy all the preschool activities and also the fact that they can personalize the app by adding photos and videos. Additionally, Elmo Loves ABCs allows you to track your child's progress.
Learn with Homer
Based on Harvard and Stanford reading research, this app starts with letter and sound recognition but also moves children on to 50 other reading skills including pronunciation and phonics. That means that Learn with Homer, geared for ages 3-6, can grow with your child.
VivaKids' ABC
This amazingly creative app uses the intriguing art from Ulrike Kerber made real through animation. Each letter has a video made with everyday objects which will amaze and entrance your preschooler. Children can trace the letters in both capital and lower case. VivaKids is a wonderful beginning alphabet app for ages 1-4.
At Kids Konnect, children do many preschool activities to develop reading skills that prepare them for kindergarten. Parents can help reinforce what they learn at preschool through reading out loud to children and also letting them use these 5 excellent iPad apps. What is your favorite way to teach your children the ABCs?