Learning has a lot to do with attitude. If you want your child to do well in math and science, you can help by doing preschool activities that show math is fun. Are you raising a child who loves math? See how well you do on this quiz: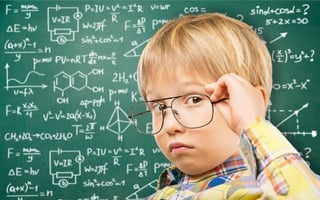 Does Your Child Love Building Things?
Building with blocks, Lego bricks or Tinker Toys helps children learn about space, volume and structure. You can make building fun by giving them challenges like: "How high a stack can you build?" or "How can you make a stronger tower?" Providing building tools and a space to play can also encourage building play.
Do You Point Out Math During Your Day?
You can make math fun by showing your child that math is all around us. Count out the red cars you pass by, or the number of steps on stars. Look at the numbers on the clock, have your child help you match socks, or make patterns from different kinds of cereal.
Do You Let Your Child Measure When You Cook?
Making dinner with preschoolers can be a challenge. Turn it into a learning opportunity by having them help you measure ingredients, or count out the number of cups as you measure.
Do You Play Math Board Games With Your Child?
Playing board games that involve counting and matching helps your child learn that math is fun. So say "yes" when your child wants to play Candyland, Memory, Chutes and Ladders, Sorry or Trouble.
Do You Spend Time on Structured Math Activities?
While informal preschool activities involving math are essential, it is also important to do structured math activities that help kids connect real life with the math they will be doing at Kids Konnect preschool. So purchase math manipulative activities or make your own preschool math activities from household objects. You can even do online math games with your child.
Do You Read Math Books?
Reading counting books is as important as reading alphabet books. Let your child point and count and trace the number with their finger. Fun math books include the rhyming counting book Quack and Count, and the calming bedtime book Only One.
Making math preschool activities fun can help you have fun with math too. What is your favorite fun math activity to do with your child?