Does your child love going to science museums and building with Legos? At Kid's Konnect, teachers teach science through excellent children's literature. One excellent parenting technique is to encourage a budding scientist by using good books children love being read over and over. Here are three: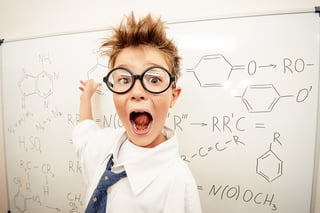 The Tiny Seed by Eric Carle
This lovely story tells the life of a small seed from the time it leaves a flower in the autumn until it grows up into a giant flower reseeding in the wind the next year. Children learn the drama of the cycle of life in this lovely tale. The little seed survives the wind, birds, snow, and the trampling of children's feet to finally land where it can grow and thrive and send out seeds to start the process again. Follow up reading this book by planting some flower seeds with your child.
Digging Up Dinosaurs by Aliki.
Does your child love dinosaurs? This fun book tells the story of how those giant beasts ruled the earth then died out. Next, the book explains how people began discovering bones, teeth and footprints of giant beasts and had to guess and uncover what these fossils revealed. Aliki's book shows how scientists work to uncover the fragile fossils, study them and put them back together again. This book encourages your child to enjoy scientific discovery and understand how scientists work together to uncover mysteries. Be sure to visit the California Academy of Science to look at the dinosaur exhibits after reading this book.
Owl Moon by Jane Yolen
What makes this book special is that it is about the relationship between a father and his daughter as he takes her out "owling" in the middle of the night. This book teaches that science requires careful observation and waiting but that the reward for patience is the miracle of seeing nature's beauty. After reading this book, you can look for birds in your neighborhood and maybe set up a birdfeeder outside your windows to find out what birds come to your yard. Work together to identify the birds you see and keep a list.
Well-written and elegantly illustrated children's books about science can help you teach your child more about scientific principles and also help you enjoy the natural world together. Do you have a favorite children's science book you like to read?