Most libraries have a summer reading program because they know that when parents foster a love of reading during the summer, it often creates a pattern for children to enjoy reading year-round. Here are more books to add to their summer reading list: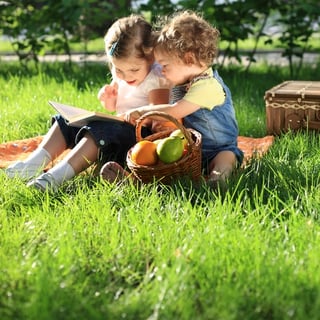 The Very Lonely Firefly
Available as a hardcover or board book, this vibrantly illustrated book by Eric Carle has an ending surprise "light up" that children love. The lonely firefly is a classic tale of getting lost and searching for a friend, a theme which resonates strongly with children who often feel small and afraid. Read this book with a flashlight in the dark or in a tent while camping to get the best effect. Use this book as a springboard to get your child interested in summertime insects and learning about nature. You can answer their questions by looking at the Firefly website. Fireflies actually do live in the Bay area and all over California, but they only light up east of the Rockies.
Down by the Bay
At Kids Konnect, we love to teach children language skills by using music. Down by the Bay is an illustrated song by the children's musician Raffi. Be sure to look up the music and sing along with this classic silly song about a goose kissing a moose and a bear combing his hair. Your preschooler will be entertained while learning language skills like repetition, rhyme and rhythm. After you've read this book, you might want to check out some other Raffi books like Baby Beluga, Five Little Ducks, and Shake My Sillies Out.
Froggy Learns to Swim
All of the Froggy books by Jonathan London feature patient parents helping their endearingly timid son Froggy face the normal trials and difficulties of childhood. In this book, Froggy's mother assures her terrified son that all frogs are great swimmers. However, it isn't until he has donned all possible swimming gear that Froggy is finally willing to venture into the water. Froggy's comical expressions and the wonderful way London writes sounds, "zip, zock" and "flip...flop...splash!" make this a great book to read aloud.
Consider signing your child up for a library reading program or the online Scholastic Reading Challenge. These programs encourage reading by requiring them to log minutes reading and offering rewards. What's your favorite book that you've read together this summer?