When I first had yams, I thought I was being tricked as they were darn right fantastic – nothing this tasty can be good for you, right!?
After much deliberation, I came to the conclusion that yams are amazing. Not only are they deliciously sweet but they are so much better for you and your kids than their regular potato cousin. Packed with vitamin C, 400%+ of our daily intake of vitamin A, and beta-carotene, yams boost the number of white blood cells in your body and help you to feel healthy.
Fiona Kinnear, registered Dietitian adds:

"Yams are rich in anti oxidant beta-carotene which the body requires to make vitamin A, which is essential for the development of your child's eyesight. They also provide a great source of vitamin C, potassium and fiber, which are all crucial for healthy growth and development. Best of all, due to their naturally sweet taste, they go down well with the fussiest of eaters".
Yammy recipes
From chips to dips, this versatile vegetable can become a regular part of a preschoolers diet. Here are two quick and easy recipes that your kids are bound to love.
Oven Baked Yam Fries – 40 mins


You'll need
Oil
One average sized yam per person
Garlic powder or crushed garlic
Baking tray
Place a lightly oiled baking tray in your oven and preheat to 400°f
Top tip: use whatever oil you have in the home, even the spray oils will do fine. I would avoid using Olive Oil as the heat instantly kills any health benefits so it's best to save it for salad dressings.
Leaving the skin on, chop your yams in half and then slice length ways towards the center to give you steak-cut style fries. These absorb less oil that their French fry friends.
When the oven is preheated, take out the hot baking tray and scatter your steak-cut yam fries evenly and flat. The more space you have between your fries the crispier they will be.
Spray or drizzle your fries with a little more oil and sprinkles on garlic.
Bake for about 35 minutes and turn them over about 25 minutes in (cooking time will vary depending on the size of your fries).
Season and serve with delicious accompaniments like mashed avocado, soured cream mixed with garlic, poached egg, salmon, or anything else you can think of!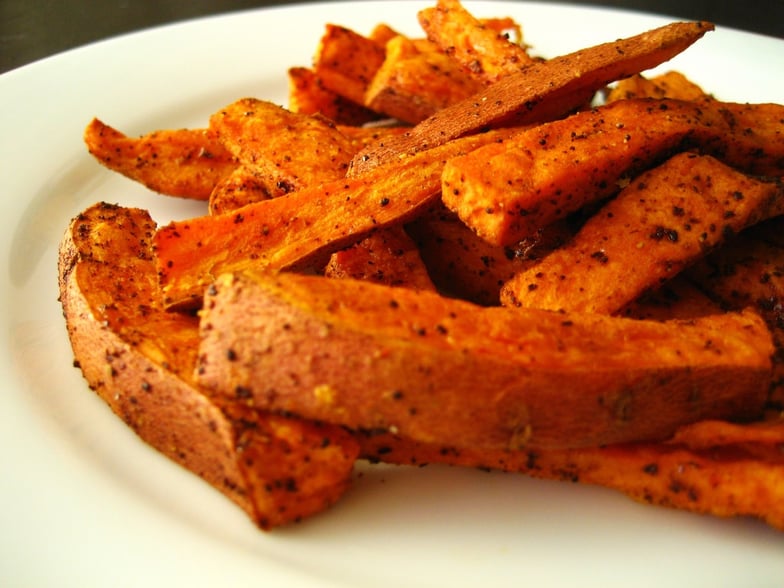 Sweet potato and spinach quesadillas – 40 minutes
(makes 4)
You'll need
2 medium sweet potatoes
1 large red onion, sliced
8 (6-inch) flour tortillas
5 cups baby spinach (about 4 ounces)
1 cup part-skim mozzarella or other cheese
4 teaspoons of oil
1 Skillet
1 Saucepan
For speed, microwave the yams on high until they are nice and tender.
Meanwhile, in a medium saucepan gently fry the sliced red onion until a light golden brown. If you would like to add a little sweetness, sprinkle some sugar on the onions to encourage them to caramelize.
Mash the cooked yams with a little salt and pepper using a fork. Use a blender for an ultra-smooth texture!
Top tip: By using a blender, you can hide the potato skin from kids. This is great to keep in your food as it's packed with fiber and other goodness.
Divide your yams among four tortillas and then top each with a nice pile of spinach, a sprinkling of cheese and top with another tortilla to make a 'sandwich'.


Read more: How to Sneak Extra Veggies into your Kid's Food
Heat a large nonstick skillet over medium-high heat and spray on a thin coating of oil. When hot, place your first quesadilla on the skillet until it's golden brown and the cheese has begun to melt (about 3 minutes). Now comes the hard part, try and flip the quessidilla either by turning the skillet upside down onto a plate and then placing the uncooked side back on the skillet or by using kitchen utensils like a palette knife.
When everything's cooked, cut into quarters and serve. This goes really well with mashed avocado.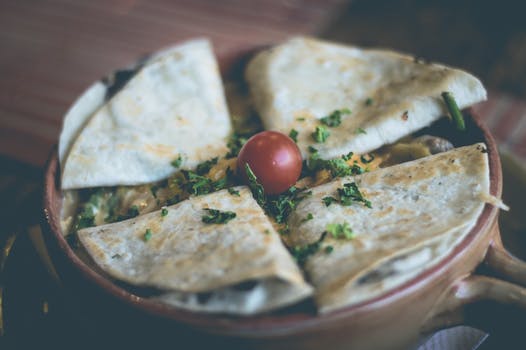 We hope you love these recipes as much as we do at Kids Konnect! We make sure to provide nutritious and delicious meals at all of our preschools in San Francisco's Bay Area including our newest preschool in San Mateo.
We have sample menus here but you can always find our weekly menus on the parent notice board.