Questions to Ask When Choosing a Preschool
Selecting a preschool for your child is a huge step. It might be the first time anyone other than you is taking care of your child and it's important that you are happy and satisfied with every element of the preschool.
Usually, you will be offered a tour of the daycare setting, infant center or preschool. A preschool tour can be an overwhelming whirlwind, specially with covid restrictions in place or if it's a group tour. So it's a good idea to go along armed with a list of questions and topics you'd like to discuss.
This blog lists out our recommended topics to discuss with the preschool before deciding where to send your child.
Before You Go on a Preschool Tour
Here are our top tips to get ready for your preschool tour:
Decide what's important to you
What is an absolute deal breaker for your family and what is just a nice to have? Maybe you would like there to be lots of outdoor play but a vegetarian menu is essential. Is curriculum the most important aspect? Excursions?
Discuss as a family
Look at the preschool website together as a family and talk about what you need from a preschool. Do both parents need to attend the tour? Maybe you'd value the opinion of a grandparent. If only one person can attend the tour, they're acting on behalf of the whole family so it's important to discuss beforehand.
Write down your questions
The tour is such a good opportunity to get to know the preschool and staff so make the most of it by having a physical list of questions with you that you can tick off - they won't mind!
Things to Note During the Preschool Tour
Discussing things with staff is great, but you can also pick up on a lot of important details while walking around the center.
Cleanliness
Definitely ask about cleaning and sanitizing schedules, but take note for yourself on how clean the place is! Are shelves dusty? Light switches grubby? Is the outside space tidy?
How engaged the children are
If you're lucky enough to be able to view the preschool while the children are there, take a minute to observe how happy the children are, how engaged they are with the activity and how they interact with the staff on duty.
What vibe you get from the staff
This is where your parent intuition will kick in. Regardless of what the staff member is telling you on the tour, how do you feel in their company? Do they make you feel welcome and at ease? Your child will be spending all day every day with them so it's important that you trust the staff and feel reassured they will take the best care of your child.
---
What to expect on your Kids Konnect preschool tour
Preschool tours will vary from school to school but at Kids Konnect, parents are invited to a 20 minute tour where you will have the chance to:
See the facilities

Speak to the teachers

Observe how our teachers set children up for success

Ask questions in the moment to see if our school is a fit for your family
Due to covid restrictions, most Kids Konnect Preschool tours run after school time when no children are present unfortunately, but we will do our best to accurately describe the curriculum and daily life at Kids Konnect.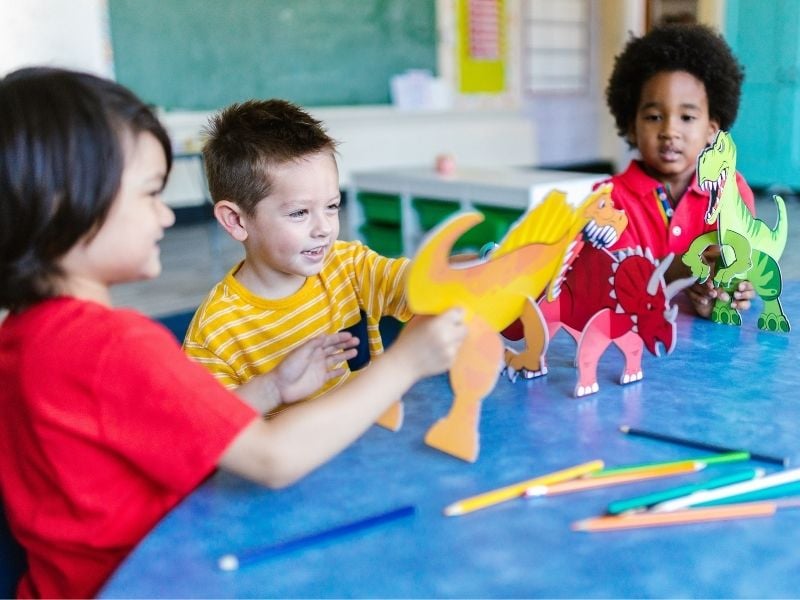 Top Questions to Ask When Choosing a Preschool or Infant Center
All About Fees
How much are the tuition fees?
Is there a half day program option?
How do I pay the tuition fees?
When do I pay the tuition and how regularly?
Do I pay per day or per hour?
Are there any discounts I can get?
Are meals included in the price or cost extra?
If we go on vacation do I still need to pay tuition?
Are there any block closures?
Pick up and drop off
What is the pick up and drop off procedure?
What are the opening hours?
What happens if I'm late collecting my child?
Can I get someone else to collect my child from preschool?
About the Staff
What is the staff to child ratio?
What qualifications do the staff have?
Will my child have a key worker?
Who is the owner / director of the company?
What languages do the staff speak?
Daily Life at Preschool
What does a typical day look like?
How do naps work?
What kind of activities do the children do?
Do you do physical activities / exercise?
How often do the children play outside?
Do the children go on excursions?
What food is offered?
Do you cater for specific diets?
Will my child's religious beliefs be observed?
What languages are spoken at the preschool?
How is behavior managed?
My Child's Learning and Progress
Do you follow a specific curriculum?
What kind of learning activities and lessons do you do?
How do you measure their progress?
How do I get notified about my child's progress?
Learn about the Kids Konnect play-based curriculum here
Communication
How do I contact the preschool?
How can I learn about what my child has been up to each day? How they slept / ate?
How will concerns about my child be raised with me?
Do I get regular progress reports on my child?
Under what circumstances will I be contacted during the day?
Health and Safeguarding
What happens if my child feels unwell while at preschool?
My child needs regular medication, how will that be managed?
How will my child's additional needs be catered for?
Do external people ever enter the preschool? How are they vetted for safeguarding purposes?
What happens if my child is involved in an accident at preschool?
Are the staff first aid trained?
What to Bring to Preschool
Do I need to provide nappies?
Should I pack a change of clothes?
Do you provide sunscreen or do we bring our own?
Do we bring our own water bottle / cup?
Do I need any special footwear or outdoors clothes such as rain boots or bathing suits?
COVID-19 Procedures
What social distancing measures are in place with staff, children and parents?
What is the cleaning / sanitizing schedule?
How are children encouraged to wear masks? What happens if the children refuse to wear their mask?
What should I do if my child or a member of my family displays any Covid symptoms?
Are temperature checks done on entry?
Is hand sanitizer available?
Learn about the Kids Konnect Covid procedures here

Learn More About Kids Konnect Preschools
We'd be delighted to answer all of these questions and more when you come on a preschool tour of your local Kids Konnect. Book a tour to secure your place for Fall enrollments.