When to Stay Home
How do you know when to keep your preschooler home from preschool? It basically boils down to one question: Can your child still participate in school activities? After all, having a sore throat, mild congestion, or a cough doesn't always mean a child can't be active and participate in school activities.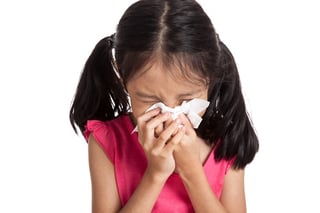 If your child is sniffly but hasn't slowed down at home, chances are that she is probably well enough to be in the classroom. However, if she's been coughing all night and has trouble getting out of bed in the morning, she might need to take a sick day.
Always keep your kid home if he has a fever, is feeling sick to his stomach or is vomiting, or has diarrhea. He should also stay home if he says he is in pain, doesn't have an appetite, is lethargic, clingy, or is otherwise just "not himself."
If you decide that your child is well enough to go to school, be prepared to pick-up should their symptoms worsen. Most child cares and preschools have rules about when to keep kids home for the wellness of classmates who are not ill and for teachers to stay healthy. A fever is one time when a child should be kept home, but other frequent illnesses that are highly contagious, like strep throat or pinkeye, also qualify for a few days home from school. Most preschools require that you keep your child home for at least 24 hours after a fever has broken naturally—without fever-reducing medications—before sending him or her back to preschool.
Prevention
Contrary to myth, cold weather does not bring on more colds; close quarters do, says CNN and many other experts. Dry air, dry noses and long periods indoors all make for easy transmission of the dozens of viruses, including rhinovirus, causing colds.
Prevention means basic hygiene at home and at the child care center, according to the CDC:
Wash hands frequently with soap and water (use lotion to prevent dry skin)
Avoid spending too much time indoors
Teach your little ones not to touch their face, eyes, mouth and nose
Stay away from people who are sick with a cold or influenza
Cover your mouth and nose when you sneeze; use the crook of your elbow to cover the sneeze to avoid transmitting virus to your hands
What helps you decide when your sick preschooler will stay home sick and when she or he will go to preschool? At Kids Konnect we'd like to know! Please leave your comments below or contact us at Kids Konnect.