Get your kids excited about mathematics using some sly parenting strategies! Here are some tips:
Patterns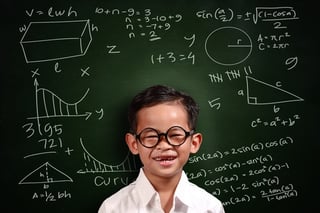 The California Department of Education standards for preschool mathematics include pattern recognition. Point out patterns you observe and encourage your child to point out patterns, too. Who can find more? Easy patterns for little children:
alternating colors
snack foods—pretzel, grape; two pretzels, two grapes; three pretzels, three grapes...
Kid for Hire
"Hire" your child to show you how to solve a math problem, says Suzanne Sutton, creator of a website to encourage a love of learning. If your child is studying odd and even numbers, for example, good parenting can mean paying her to explain them to you using blocks or pebbles.
Good at Math
Never say you were not good at math when you were in school, say the experts at GreatKids. Communicate a love of math to your child in your words and actions.
Mind Reader
Prompt your child to think of a number between one and 10, then ask Yes/No questions, says the U.S. Department of Education:
Is it more than five?
No!
Is it less than three?
No!
Is it even?
Yes!
Is it four?!
Yes!
Switch roles and have fun!
Snap It
Stanford University mathematics professor Jo Boaler suggests playing "Snap-It" with your child. Using connecting cubes, you and your child assemble two equal-number "trains." When your child says "Snap," break your trains and each hide one section behind your back. The other person has to say how many cubes are hidden.
Measure Up
At Kids Konnect we encourage children to learn about capacity by manipulating many different containers. Can a tall, narrow container hold the same amount of dry beans as a squat, wide container? Use measurement-related words in everyday actions, too:
Our beagle has a mass of nine kilograms, but the Smiths' Great Dane has a mass of 60 kilograms.
I think we walked a mile going to the playground today!
At Kids Konnect, we'd like to know: What do you do to get your kids excited about mathematics? Please offer your suggestions in the space below.