All parents cringe when they see a preschooler in the store demanding something they want — now! Most of us know the dilemma that parent has: if they say "no," they face the possibility of a tantrum, but they don't want to encourage bad behavior and impatience. In fact, delayed gratification is something many adults struggle with, so it's very important to start teaching this to your preschoolers. How?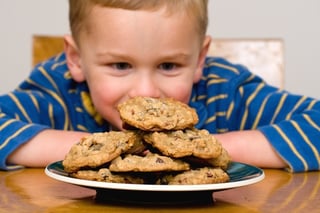 Be an Example
As your child sees you waiting calmly in a traffic jam, being patient with them as they struggle to get dressed, and kindly thanking the store clerk who made mistakes while checking you out, they will learn real life lessons not only in patience, but also in treating other people kindly. In fact, experts say modeling patience is your most important teaching tool.
Use Play and Fun Activities
Another way to teach patience is to do activities that require your child to follow steps or wait their turn. Here are some ideas:
Play board games. Games like Candyland, Chutes and Ladders, or HiHo Cherry-O teach children to wait for their turn and to enjoy talking while playing.
Make cookies together. Follow the steps and wait for them to be ready.
Do gardening together. Let your child plant some vegetables that grow easily from seed like carrots, lettuce, onions or radishes. Watching and waiting for them to grow teaches patience.
Clean and Organize: Have your children help you do daily tasks that require patience and following a sequence, like folding laundry and putting it away or organizing toys.
Read Books
At Kids Konnect, teachers often read good children's literature to help teach children about character traits. Parents can do this too. Talking about a character who has trouble being patient can be a non-threatening way to talk about the issue. Here are some good books:
Lucy's Secret by Mireille Levert
Taking Too Long: A Book About Patience by Cheryl Wagner
The Pigeon Wants a Puppy by Mo Willems
Finally, it helps to remember that developing patience is a lifetime pursuit — a marathon and not a race. Luckily, the developmental process helps. As kids get older, they will understand more about time and sequence, and will be better able to wait. Do you have an activity that you like to do with your child to teach them to be patient?