The Best At-Home Play-Based Activities You Can Do With Your Little One
At Kids Konnect, we believe that learning should be fun! But we also know that it helps to have some educational activities at the ready for rainy days spent indoors.
We already know there are proven results from a play-based curriculum such as increased independence, curiosity and social skills. Psychology studies position play as vital to a child's development. Unlike some methodologies that require strict rules and boundaries when teaching or partaking in activities, a play-based curriculum lets children work out their own solution to the problem with relative freedom.
Fundamentally, it's about children learning and completing tasks how they want and making up their own solutions.
We want to share some of what we know and practice at Kids Konnect to help you experiment with play-based learning at home with your little one.
Activities for infants and toddlers to try at home
Water Play
Water play is a great way to aid your little one's development. It's even more important as they move from being an infant into a toddler. One of the best ways to play with water and express creativity is to paint the sidewalk with water. Painting with water is fun and expressive. It helps develop muscle control and it doesn't upset the neighbors.
Fill a bucket with water and grab some paint brushes.

Go to your nearest bit of sidewalk or garden patio.

See if you can paint the following shapes or whatever your little one wants to paint!
Color Play
Our pre-k class in Pacifica used color play to learn more about how diverse our local communities are.
Recognizing color is an important milestone in children's cognitive development. It is often used in educational admission tests and early developmental screenings. Reinforcement is a key tool, letting children know that a red pen is red.
Subscribe to our Dittos and in the second issue you'll be able to match the right color with the right color blob.
Have your child match the color with the right blob.

Say the color out loud so your child can learn how to recognize colors.

Draw a line between the word and the blob.
Movement Play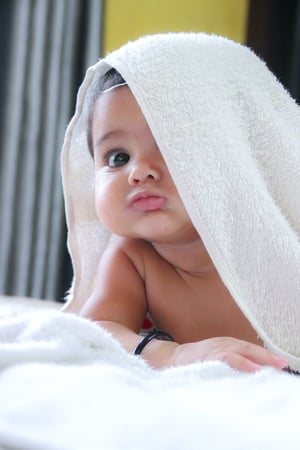 Rolling around on the floor is vital for motor development. You have heard of walking before you run, but have you heard of rolling before you crawl? Rolling is great for developing strength and the brain. It assists balance, coordinated movement and proprioception (awareness of space). It's also super fun and a giggle-producer.
Lie on the floor next to your child.

Get them to choose a direction to roll in.

Together, roll in that direction.

Add some variety by slowing down the roll and speeding up the roll.

Some children often roll their upper body and flip their legs over. We do not want this to happen as it will hinder development. When your child rolls, make sure their legs go with them and they are as rigid as a pencil!
Other activities could include:
Build a tower to learn about gravity

Draw butterflies to learn about symmetry

Match letters to learn about the alphabet

Plant flowers to learn about plant life cycles
There's no right or wrong way to play!
Kids Konnect has put together a series of Dittos to support your home learning adventure! This is a collection of fun activities you can do with your infant or toddler to prepare them for preschool. The activities develop their social, language, cognition and early math skills, and can be used to track their progress.
The Kids Konnect Dittos are specially designed for at-home learning by our experts in early childhood education. Simply complete the form on the page in this link to subscribe and receive the dittos straight to your inbox.
If you've found this interesting, please visit your preferred Kids Konnect school and meet us in person! See how we nurture decision-making, problem-solving, math techniques, literacy skills, and more. We have spaces available for immediate enrollment in Fall 2022. Just book one of our 20 minute tours and ask questions to see if our school is a fit for your family.