Years Of Service In San Mateo
Average Rating By Parents On Google
Play-Based Curriculum For San Mateo Infants
Kids Konnect is expanding our award-winning play-based curriculum for infant and toddler students in San Mateo. We've tailored our play-based curriculum to encourage infants and toddlers to:
Problem solve.

Tackle complex STEM subjects, as well as art and English.

Learn emotional literacy.

Prepare for elementary school.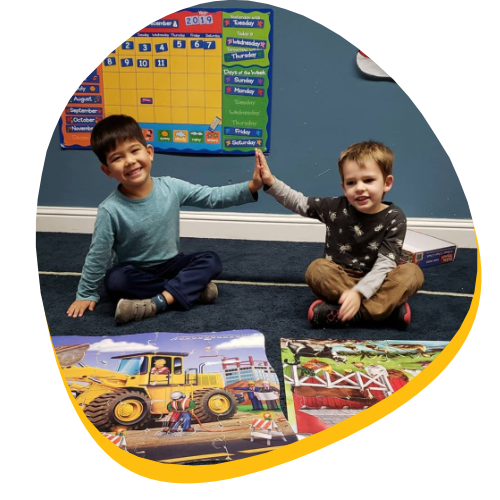 Building On Success
Kids Konnect has been running a successful infant center and preschool in San Mateo for the last 5 years. Our students in San Mateo graduate with confidence and are highly developed. We love working with families in San Mateo so we are opening a new infant care center in the area.
Excellent preschools designed with families in mind
Parents in San Mateo trust Kids Konnect Preschools for their child's early learning experience. That's why we're opening a new school!
Healthy meals
We make sure that all the meals and snacks served at Kids Konnect infant centers and preschools are nutritious and healthy. Why? Because your child deserves food that helps them grow!
Convenient opening times
Our preschools are open:
Monday - Friday
7am - 6pm
Half day programs are also available.
Qualified teachers
Not only do we have low ratios but our teachers are outstanding too, just ask any of our parents.
Centrally located
San Mateo Downtown is located in the center of San Mateo in the Downtown area.
Hear From Kids Konnect Parents
I love Kids Konnect! My daughter has been going there for almost two years and is so happy. I initially chose Kids Konnect over other schools in my price range because the classroom was so bright and organized and there is lots of room to run around outside as well as a large playground structure to climb on. After starting school there, her manners and social skills got better almost immediately, despite being only 2 years old.
Kids Konnect is a wonderful preschool and I will continue to sing their praises to the rooftops!

My daughter is treated like one of their own. Each teacher that she comes across has her best interests at hand.
I have had a great experience with Kids Konnect. My son started there when he was 3 and I'm so grateful we found this school. The teachers are great at communicating and involving families in the program. They have been consistent with setting firm boundaries with compassion. I'll be sad when we have to leave.